Well into my fifth year on the road as a full time, RV-dwelling nomad, and ruminating about things I'm most grateful for this week before Thanksgiving, I want to share a camping tip for those who'd love to spend winters in the warm, sunny desert Southwest, but don't want to spend an arm and a leg doing so.
I've known about boondocking—camping in places with no utilities or amenities—since before I got on the road. (This is not to be confused with parking lot surfing in Walmart or other lots, which is known as "dry camping.") I was aware that the Bureau of Land Management (BLM) stewards bazillions of acres of taxpayer-owned public land, opening up much of it for free dispersed camping to anyone who wants to use it, as long as they don't overstay the 14-day limit or trash the place. I'd even seen signs for Long Term Visitor Areas (LTVAs) when I stayed on BLM lands in Quartzsite, Arizona—the Mecca of nomad life. But it wasn't till a few years ago that I learned what those LTVAs were all about. And when I did, I realized I'd discovered what was likely the place with the cheapest rent in America, available seven months of every year!
How To Get In To An LTVA
You need to buy a permit to stay at one of these 7 BLM-run Long Term Visitor Areas in Arizona and California. To do that, you need to visit one of the admission stations at the front of each area, between 9am-4pm daily. There, they will register you and issue your permit stickers for up to three vehicles per person / family / camping group. This may include your camper, a tow vehicle if any, a "toad" (towed vehicle), and/or a car, van or truck you intend to use to run around in while you're camped. They'll ask to see a photo ID for the applicant, get the license numbers of your rig and other vehicles being permitted, and cash or check (they're not set up to process credit transactions with card or touchless, sorry) for the permit fee.
That fee is $40 for a standard two-week visit. Or, if you're like me and have to work or just want to stay put for a long while for any reason, your best value is the seasonal pass for $180. That permit allows you to stay for seven months, from Sept. 15-April 15. If you do the math, that comes out to 85¢/night — the cheapest rent in all of America, that I'm aware of. And when you read on to find out what all that gets you, I believe you'll agree!
LTVA Amenities:
You'll need to have either solar power or a generator (I have both just in case) if you require electricity, because these vast areas offer no electric, water or sewer hookups. They do, however, provide access to no-further-cost (i.e., free with permit) amenities for
black/gray tank dumping
trash disposal
potable water access
enclosed pit toilets.
At Imperial Dam, they also provide several 25¢ showers.
If you're a tent camper or vandweller that isn't "self-contained" (i.e., you don't have your own toilet), you are required to locate within 500 feet of a vault toilet building.
Advantages and Disadvantages of LTVA Camping
The advantages of camping at LTVAs are pretty obvious, at least cost-wise. But there are others, including:
Access to small local towns nearby for supplies and some entertainment
Loads of space to roam, hike, walk your pets, rockhound, look for petroglyphs and just generally explore
Many have ATV trails for lots of bajaing over hills and some big rocks
Generally located within reasonable drives of some of the area's best tourist destinations and lots of off-the-beaten-path, lesser-known attractions
There are also some disadvantages, including:
The small towns nearby know they have you, so their prices are nothing short of rapey. I do give them a pass, though, because most of these small businesses really only have 5-6 months of the year to make all their income.
All that space to roam is also home to stingey, bitey, pricky things that want to kill or at least hurt you, such as rattlesnakes, tarantulas, scorpions, gila monsters and jumping cholla cactus. The relief here is that once you get past the part of the winter when nights remain above 74° for four consecutive nights, the venomous critters pretty much go into hibernation, and you don't see them again till spring (I've seen one scorpion alive and one dead rattlesnake in the nearly five years I've been out here). Except the jumping chollas—you just need to learn what those look like and stay the hell away.
LOTS of people take advantage of the plentiful ATV trails, which in the dry desert translates to noise, an incredible amount of airborne dust, and more than a few stupid drunk people driving vehicles that can hurt or kill you as easily as any street-legal vehicle.
Even with the provided amenities, you still have to go get them. You still have to dump your tanks (though a "blue boy" dump is available for those who don't wish to move their whole rig once set up (that would be me, I hate moving). You have to either take your rig or a bunch of jugs or a bladder to fill with potable water (and "potable" is subjective—this desert used to be the bottom of an ocean, so the water has a briny edge to it. I only use it to flush my toilet, shower and do my dishes in.) And you still have to haul your trash to the huge roll-off containers.
The good part on that last one is that finally, there will soon be more than one amenities area to service the four La Posa LTVA sections in Quartzsite, by far the most popular of the seven. Currently, only La Posa South has one, but as I type this, construction has just begun on a new amenities area across Highway 95 (Central Blvd.) in La Posa Tyson Wash. No one has said when it will be completed, but my guess is it'll be ready for use next winter season (2023-24).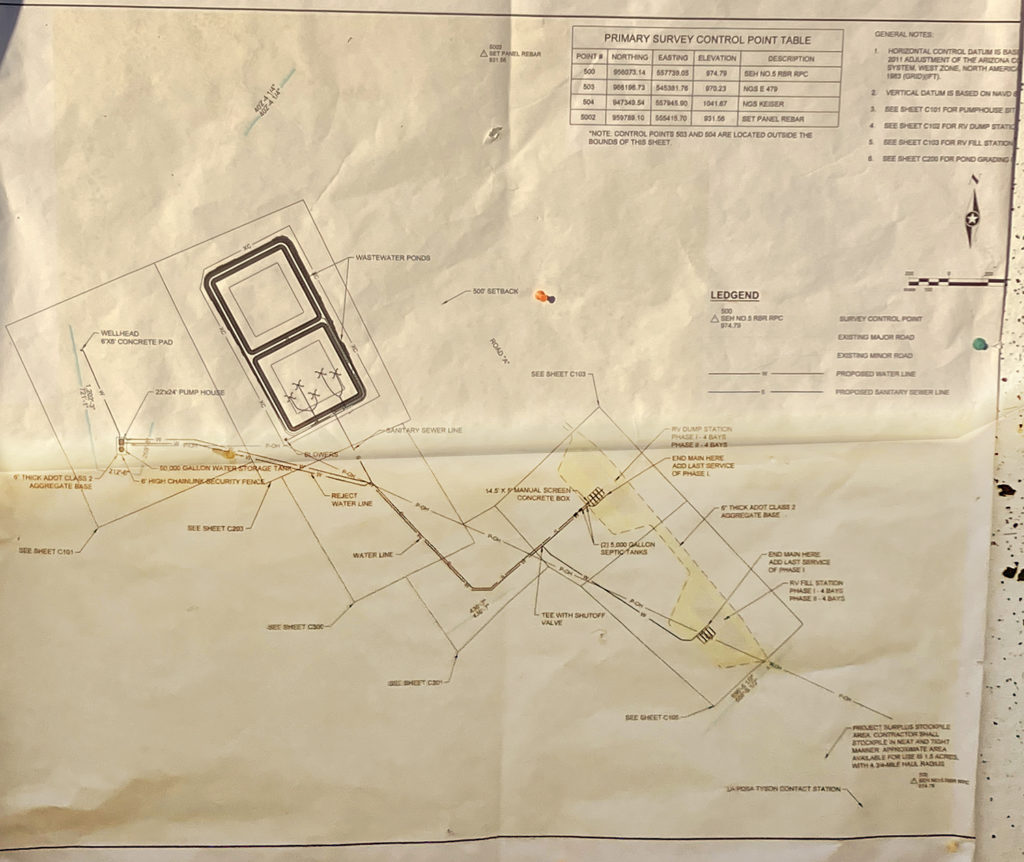 Rules and Enforcement
The rules of LTVA camping are pretty much the same as those on other BLM lands. There are a few supplementary rules for LTVA sites, which are detailed in this downloadable PDF. And some stupid, careless yahoos during the initial year of the COVID pandemic of course had to ruin some things for everyone, requiring these additional rules for all.
This year, for the first time since I've been using the LTVAs, it's apparent they are short-staffed, because the stations are displaying Help Wanted signs, and I'm pretty sure the gatekeepers are trading off, spending every other day at the station here or across the street, leaving the other station unstaffed and closed on its off day. You can tell whether a station is open or not by seeing if the US flag is flying at the station. If not, they're not in that day, and you'll need to find a station flying the flag to get registered. In Quartzsite, this is easy, as there are three other stations within a mile or so of each other.
And yes, they do check to see if everyone is registered. Usually, we can see them driving around in a little UTV, checking for properly placed permit stickers at least once a week, sometimes more often. The great part is that a permit you purchase at any of the LTVAs will allow you to use any of them that season (sticker colors change each year to make it easy to tell if yours is up to date).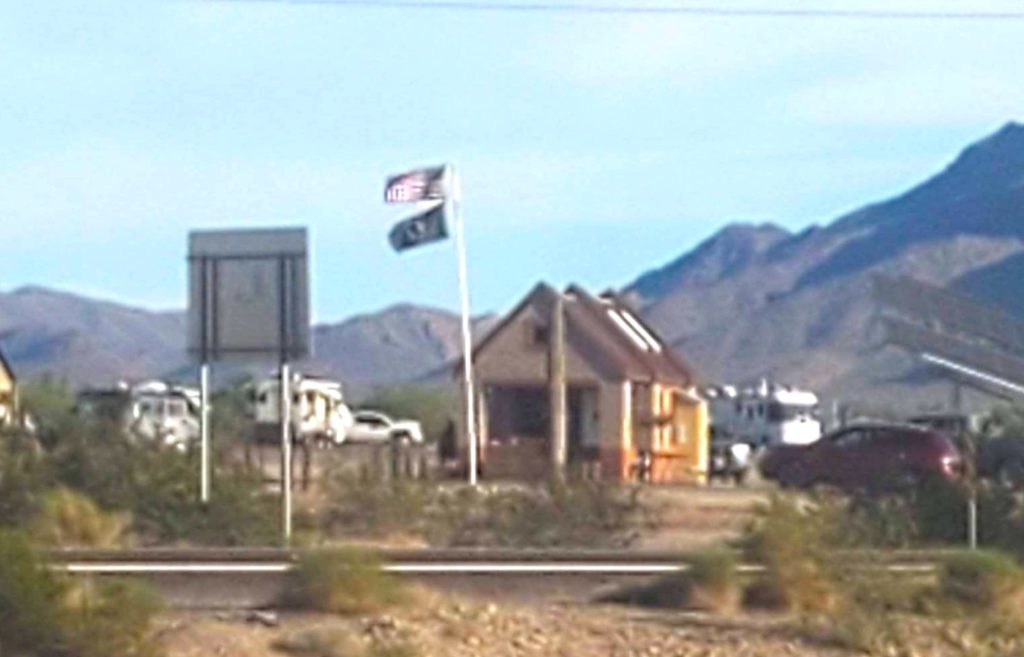 I sincerely hope this information helps you consider making use of one of these miracles of nomad life we call LTVAs. Remember, as an American taxpayer, our public lands belong to all of us—our responsible use of them and the small fees we pay for that enjoyment ensure that they'll be here for generations to come.
As always, never stop nomadding!