I've included this page because I have found the two resources listed indispensable to my success as a digital nomad. I believe many now getting on the road or soon to join the nomadic lifestyle still need to work, and these two resources provide everything you need to know to allow yourself to be a productive digital nomad.
---
Technomadia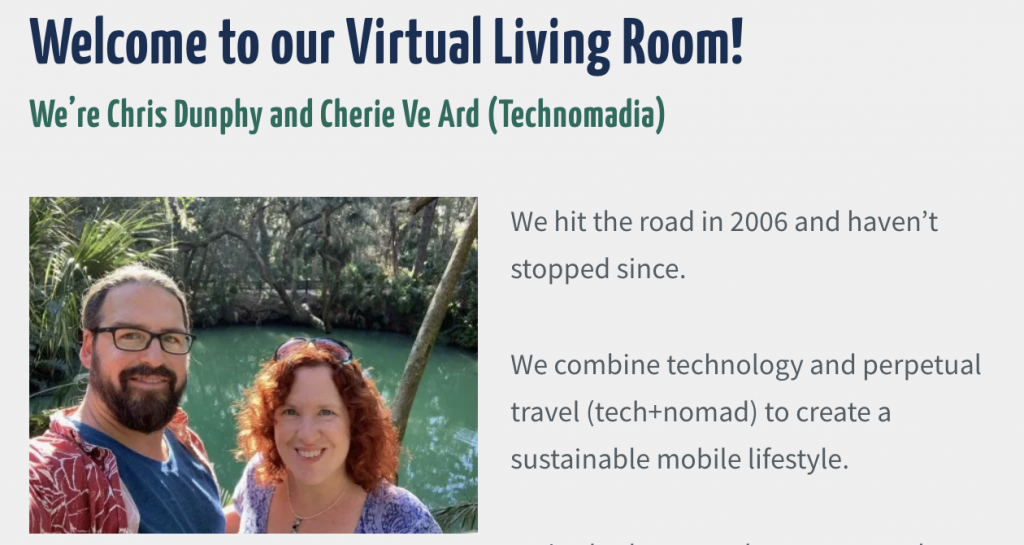 It is the kindness, generosity and hard work of two Gen-X technogeeks—Cherie Ve Ard and Chris Dunphy—and their faithful feline, Kiki, that make up Technomadia. Essentially, this amazing couple lives and works out of a variety of mobile dwellings, including a renovated bus and a boat. They make a living through a variety of channels, but some of those affect us: They independently test and review new technology that applies to nomadic living, and share their findings with us. I cannot stress enough the immense help they have been to me in getting and staying technologically ready for the road.
---
Mobile Internet Resource Center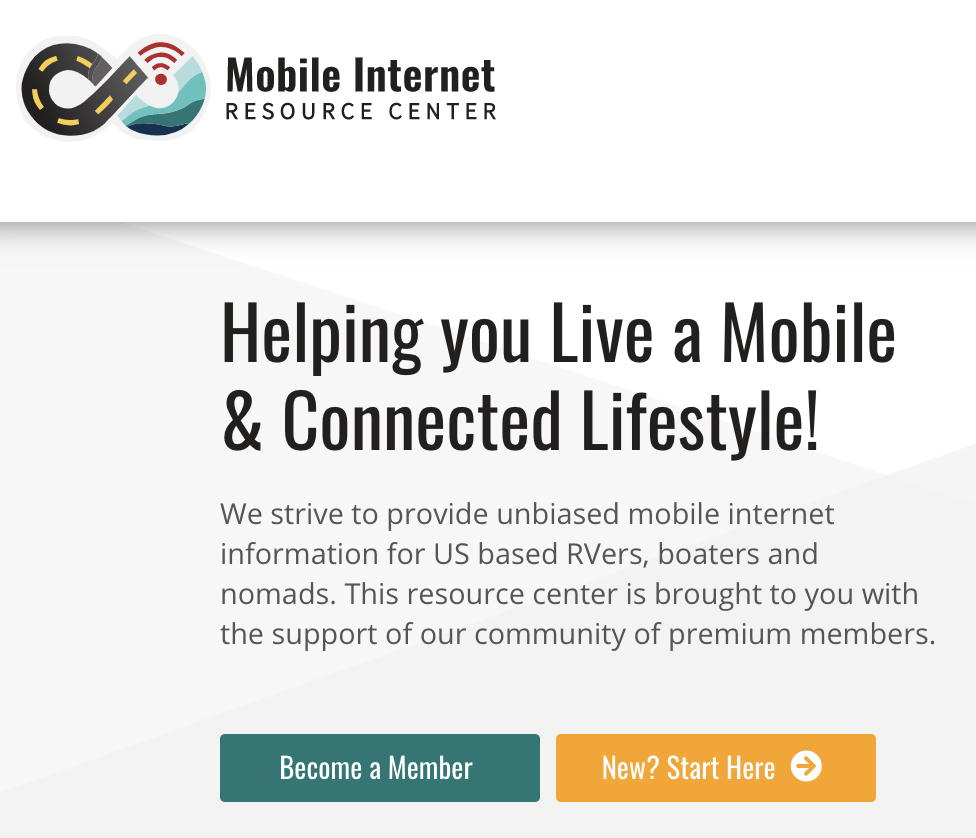 Chris and Cherie apply their knowledge and skill to the nomadic life so the rest of us can benefit from it at their awesome Mobile Internet Resource Center. Much of the invaluable information they develop through their testing of tech gear and their monitoring of new products and services is provided FREE to anyone who wants to use it here. They recently revamped this entire website to make it uber-easy to follow. But when you're ready and know you're going to take the plunge into a full-time nomadic lifestyle, you will want to do as I have, and become a member, or Mobile Internet Aficionado (MIA).
At the time of this writing, there are two levels of membership:
Library Card – $59/year. This is my current level, and is the basic membership. It gets you access to just the exclusive member content. It's meant for those who are more self-paced with an existing understanding of this technology, don't desire interactive assistance, and/or who have already assembled their setup and just want to stay up to date on the latest.
Premium (MIA) – $85/year. The MIA is their full membership level, and includes all current benefits, including those of the Library Card level. It's most ideal for those starting their research to assemble their setup, doing a total refresh, or for those who want to tap into the wealth of knowledge a community can provide. It includes their Mobile Internet 101 course, interactive guidance, and more.
I think for most folks, starting with the Premium membership makes the most sense, because you get the most guidance and hand-holding from it. Even if you generally consider yourself fairly adept at most things, nearly everyone needs some level of hand-holding around technology of any sort.
But at some point, you may feel you've got a good handle on the basics, and just want to stay on a knowledge maintenance level; keeping up with new products, services and technology. Then you can drop back to the Library Card level, which gives you guides, reviews, videos, newsletters and email notification of breaking or urgent news, and an eBook of the Mobile Internet Handbook. Or you may find the extra help of the Premium level a nice security blanket—no shame there. You can stay in touch and interact with Chris, Cherie and their crew on their free Facebook group, as well. And there is a private group for paid level members.
However you do it, I can unequivocally say that I would not recommend attempting to be a digital nomad today without joining this organization, or at least availing yourself of their many free reviews and guides to such things as top cellular phone and data plans. I know I couldn't have done it without them. After all, why struggle when you don't need to?
And for the record: No, I have not been asked or paid by Technomadia to publish any of this info. They probably don't even know it's here. I simply believe wholeheartedly in their mission, am deeply grateful for what they've taught me because it's the reason I can live this life, and I just think they are fantastic people who can help you, too.