The websites in this section are intended to aid you in staying connected to the Internet and cell phone carriers while on the road.
Mobile Internet Resource Center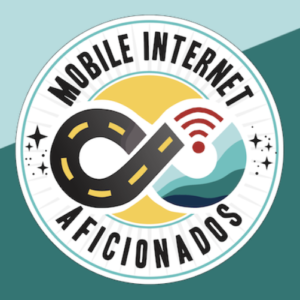 Whether you're
working from the road or water
attending online classes
keeping in touch with friends and family
planning your next destination
sharing your adventures, or
keeping entertained
the Mobile Internet Resource Center was designed for you.
If you consider Internet access almost as necessary as fuel, water, food and electricity, then this website was created expressly for you. Assembling a mobile internet technology solution that fits your unique lifestyle can be an overwhelming challenge…especially since the options change so rapidly!
Chris Dunphy and Cherie Ve Ard have made it their full time job to create resources to help make this stuff easier to understand, provide education, and keep on top of this constantly changing topic.
I am a paid premium member, because I want to both thank them for the invaluable information they provided that helped me get on the road and stay that way, and to stay up to date as things evolve technologically.
If you only join one website to help you become a full-time RVer, and especially if you need to work from the road, this one should be it, hands down. I couldn't have made this lifestyle work without MIA.
---
CellReception.com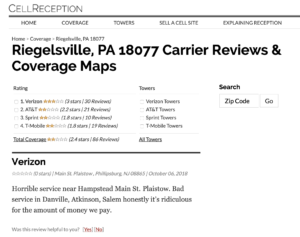 For fulltime digital nomads, having mobile Internet access is key to a successful life. It's a prime factor in choosing campsites, especially if you intend to stay there for a while. So I recommend visiting CellReception.com ahead of time, before you leave for your destination. This site can help you find better cell reception on the road by simply entering the ZIP code or city name where you intend to stay, and it will render a screen that contains crowd-sourced ratings and reviews for the four major cell carrier networks. It's an easy way to avoid making bad campsite choices, and possibly losing money because you end up having to cancel non-refundable campsite reservations in places that won't allow you to get online and work.