This section provides websites that will help you plan your route by finding affordable places to camp or just park overnight while enroute to somewhere else.
---
Campground Views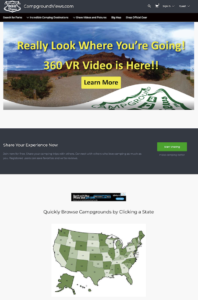 CampgroundViews.com is the only tool currently available to campers and RVers, allowing us to physically see and tour in three dimensions thousands of campgrounds and RV parks across the United States. With over 3,000 first-person videos, 24,000 photographs, and thousands of reviews, this is a fantastic place to find great campgrounds you want to visit. Best of all, it's free to use by simply entering a city, state or address in the search bar at the top of the page. You can get a very good idea whether you're entering an area that will have places your rig will fit, or to turn around if not, and more. If you wish to be able to save your finds in a favorites list, all you need do is register as a user, and it's still free.
Frugal RV Travel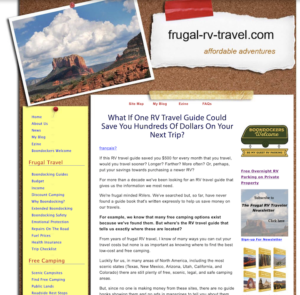 This website is really rich with great information about LOTS of things concerning RV travel, but I find the most valuable are the original RV Travel Guides written by the site authors. They currently have five guides in the series, all about locations in America's Southwest. This is mainly because they are about free or very low cost campsites and tank dumpsites, which you mostly don't find elsewhere in the U.S.