Introduction
Hi. My name's Mary Shafer. I'm a writer, artist, independent publisher, teacher, public speaker, Jeep aficionado, storm freak and avid metal detectorist. Currently, I live in upper Bucks County, Pennsylvania…but that will soon change.
I took a vacation to Mexico in November, 2017. It was a gift from my sister and brother-in-law, who know how much I love Isla Mujeres. I hadn't been there in years, and missed Ashley and Curtis Blogin (who became good friends the first time I visited in 2005), the wonderful and welcoming hosts of the stunning Villa La Bella B&B on the central part of the island's Caribbean side.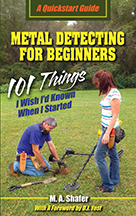 I enjoyed myself, indulging in a good bit of underwater metal detecting for some articles I'll be writing for American Digger Magazine, where I'm a contributing writer and marketing associate. For those not familiar, AD is the highest quality magazine in the metal detecting hobby, in America and beyond. I'm an avid practitioner, and in 2016 I wrote and published Metal Detecting for Beginners: 101 Things I Wish I'd Known When I Started. (As of this writing, the Quickstart Guide is currently in the Amazon Top 100 in three categories, and #10 in the Coins & Medals segment of the Hobbies and Leisure category.)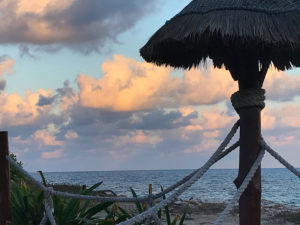 But my Mexico trip was more than just a vacation. It was a chance to clear my mind and make a life-changing decision.
Almost four years ago, I ended a 15-year relationship, and it took me some time to regain my equilibrium. Since then, it feels as though I've just been marking time, and I'm a person who needs to feel like she's moving forward, getting better, trying new things, growing.
Like most folks, I enjoy familiar things, but to feel I'm growing, I also need a fairly constant stream of change, though usually what changes is relatively small. Even though I just had that big life change recently, I've been feeling restless, wondering, "Where do I go from here?"
I've been needing something new in my life. New, but good…and very, very different. And I finally found it.
The Next Big Thing
For years, I've wanted to start snowbirding, because I have never really liked winter. And now that my body has some miles on it, enduring cold weather is just starting to get hard. I have increasingly severe arthritis in my hands, especially my right fore and middle fingers, which I broke in the early 1980s. Since I'm right-handed, this is really difficult, especially when I want to write or draw. So snowbirding seemed a fantastic idea, now that I'm unencumbered by obligations to anyone else. The problem is, I can't afford to maintain my apartment and another place in a warmer climate, when I'm only using each for half a year. So that idea got shelved for a good bit.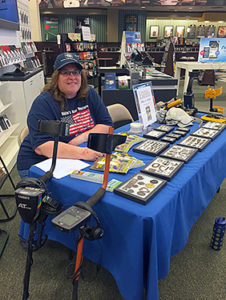 Meanwhile, as I got more involved in metal detecting, I began to wish I had a camper of some sort, so I could attend group hunts in distant locations without having to shell out for expensive hotel rooms. I'd always wanted to try RVing, but never got the chance. Then suddenly, it occurred to me that maybe I could do both.
So last summer, when my sister challenged me to find the connection between where I am now and where I told her I wanted to be in ten years, I decided it was time to figure it out. As a professional writer, I'm a fairly accomplished researcher. I jumped on the Internet and basically haven't been off it much since.
I found scads of YouTube videos by people of all ages, who are living full time in their RVs; from huge, 40-foot Class A motor homes and renovated buses to tiny little pop-up campers. I learned this is an especially viable lifestyle for people like me, who can work from anywhere, as long as they have a good Internet connection.
Breathtaking Revelation
This was an almost breathtaking revelation to me. Here, suddenly, was the answer to so many things I wanted to do! Some of these full-time RVers were youngsters barely in their 20s, and some were seasoned travelers in their 70s. All I could think was, "By God, if they can do it, so can I!"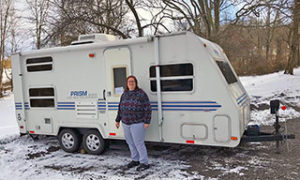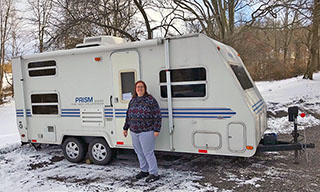 The reality is, I've never been more free in my adult life, or had less to lose. And I'm 56 years old: If I don't do it now, I probably never will. So I've already started massive downsizing (I'd begun to feel burdened by all my stuff anyway). On January 19, I took delivery of a 1996 Thor America Prism M-20PG travel trailer and have already started planning its customization to use as my traveling home and office on wheels.
The Plan For Now
If all goes to plan, right after the holidays next year, I'll be getting ready to head off to Arizona and the Rubber Tramp Rendezvous, a huge ten-day event geared to full-time RVers. There, I'll learn a lot about my new lifestyle in informal classes given by others already doing it. I'll also meet lots of other folks like myself.
If I'm lucky, I'll be able to meet some I feel kinship with, enough to caravan with them for my first year of fulltiming, or at least a good part of it. That would be a great way to get my "sea legs" under me without having to be totally on my own before I really know what I'm doing. I've heard the RV crowd, especially fulltimers, tends to be really friendly and caring, so that makes me feel much more secure in heading out on the road. I do have my own skill set that includes being rather handy with tools and very resourceful, so I can bring something of value to share with the group and earn my place in it.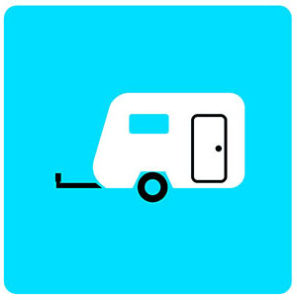 I'll boondock (camp off-grid) mostly, with a few campground stays now and then to dump my tanks, do laundry, recharge batteries and take long, hot showers. In May, I'll start back east and spend the six warm months back in Pennsylvania, though not always in the same place. I'll stay through the end of November, then head up to Maine to spend the holidays with my family, then back south after New Year, to follow the warm weather. And that will pretty much be my new rhythm, for at least the next five years.
Motivation and Hope
One of the reasons I believe I became so restless in 2017 was watching the absolute schism that separates my beloved country since the punishing presidential election campaign the year before, and the truly ugly things that have been happening ever since. I find myself trying hard to understand it all, and to reconcile the things I see happening around me every day with what I know America to be.
So one of the goals I have for my travels is to really get out there and meet lots of new people, both those like me, and especially those who are not. I want to find the real America, the one that doesn't get sound bytes on the evening news; the one that gets drowned out and ignored in the blaring of hate speech and bomb blasts and school shootings. I want to find the America I know again—one mile, and one person, at a time.
I currently drive a 2011 Jeep Wrangler Unlimited that I'm absolutely smitten with, so I'm not wanting to get rid of that any time soon. However, that means my towing limit is 3500 lbs. Wildheart—my travel trailer—is 2600 lbs. dry, so I can conceivably stay under my limit. But I have the feeling I may soon find myself having to move up to a more beefy tow vehicle. But for now, it will be me, Wildheart, and the BumbleBeep Jeep (named for her lovely yellow-and-black color scheme, which Wildheart will soon sport, as well) hitting the roads next year.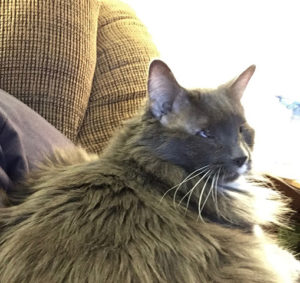 Right now, I'm still researching and trying to figure out how to finance everything. I'm beginning to gather the materials I'll need to redecorate and tweak the layout of my trailer to accommodate my living and working needs, which include traveling with Idgie, my soon-to-be-16-year-old blind cat.
Sharing with You Here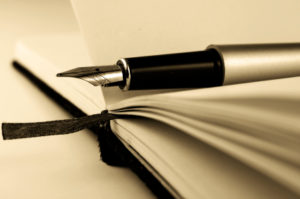 I've started this blog to record and share the whole journey with those who may be thinking about doing something similar, or those who just want to enjoy my adventures vicariously, without having to leave their armchairs. Either way, I hope you'll find my ramblings informative, entertaining, humorous, and maybe sometimes touching or even enraging. It's all part of life in this country which, although it has stumbled mightily, has never yet fallen (though I believe we're as close right now as we've ever been).
I tell myself that we are still less than 250 years old, and we need to take the long view, as historians do. As nations go, we're still in those awkward, often ungainly and unattractive adolescent years. I'm willing to suspend judgment for a while, to see how we recover.
I want—and need—to go see for myself that in the end, we Americans have more in common than we have that keeps us apart. I want to reassure myself that the complete morass our nation's capitol has become does not represent who we are as a country; that instead, we really are—for the most part—decent, loving and compassionate people, who still deserve the reputation earned by those who went before us until this horrible public spasm we're now experiencing. And maybe, in the process—if I'm very, very mindful and paying attention—I will learn a little something about myself, as well.
I hope you'll come along for the ride, and I'd love to hear from you, even if you disagree with my views. I ask only that you be respectful of me and other visitors in your approach, and show the kind of restraint grownups are supposed to have. If not, you'll quickly be shown the virtual door, like all misbehaving children. But I think we can be better than that, don't you?