The box above was something I bought for myself, even before I started dreaming of the road. It holds a sentiment I like to look at because it reminds me that so much of what we fear is in our heads and nowhere else.
I never want to let "what ifs" keep me from finding out what really is. Because the one huge "what if" I never, ever want to have to deal with is the one that goes: "What if I had done [insert cool activity here]?" I don't want to be at the end of my life, looking back and wondering, "What if?" So I've chosen a life that means I won't have to wonder, because I'll know.
Life in a Travel Trailer
Because I have never yet spent a single night aboard an RV, and haven't even done all that much camping before (the last time I can remember is tent camping at Point Beach State Forest in Door County, Wisconsin, back in the early 1980s), I have some trepidation about moving from a comfortable, 1,100-square-foot apartment to a 20′ x 7′ travel trailer that doesn't even have a dedicated bed.
But that's what I'm doing, because that's what I can afford to do, and it's the only way I can pursue this crazy dream of mine. So the first thing I need is to start customizing this rig (that's the term RVers use for their trailers or motorhomes) to fit my lifestyle. Before I get started on that, however, I want to familiarize you with how it looks now.
Let's just get this ugly fact out of the way immediately: This trailer was made in 1996, and it has the dated, never-beautiful upholstery and design to prove it.
Dinette Area
The dinette is, from everything I've read, a staple of just about every RV. This one takes up the entire front third of my rig, and is constructed in a U shape, with the center back part built against the front of the trailer. This wall is canted back at and angle to better deflect the wind and make the vehicle more aerodynamic, to decrease friction drag and increase gas mileage. Anyone who tows will know that anything that does that is a good feature.
In the shot at right, you can see the table stowed toward the floor, sitting on a lip of wood around the entire bench seat top. This essentially serves a similar function as the box spring on a residential home bed, without the added springiness. The cushions from the bench backs are laid on top of it to form the remainder of what will act as the bed's mattress. When the table isn't stowed, it sits on a cylindrical metal central post that slides beneath the table when not in use.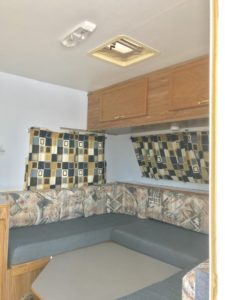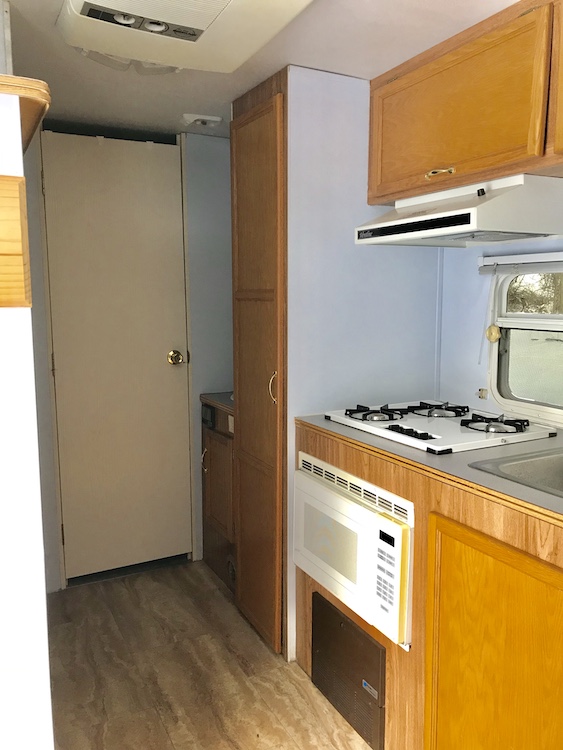 Kitchen Area
Behind the front dinette/convertible bed area (which I think I will probably just leave in bed form because I will always need a bed but I will likely be eating a lot of my meals outside at a picnic or other type table) is the kitchen area. When you enter the door from the outside, you immediately face the sink, with the stove and microwave oven (there is no standard oven in this model) to its left. The pantry cupboard is to the left of that, and the bathroom vanity to the left of that.
Opposite the sink and just to the left of the door is the refrigerator, which has a shelf on top where I intend to install baskets for food storage. I believe from the way the wiring appears, it was originally intended to serve as a TV stand for a traditional (not flat screen) TV. Since I've never been a big TV watcher and really couldn't care less, I'd much rather use it for storage, because there isn't a lot of that in this rig. 
Bunk Area
To the right of the fridge is the bunk area. I originally intended to sleep in the bottom one and use the top for storage that can be cleaned out for use as a guest bed. However, once I really tried lying on the bottom one, I realized it's just way too narrow and won't accommodate comfortable, non-claustrophobic sleeping for a person of my size. So that's why I quickly opted to use the convertible dinette bed, which is the area equivalent of a full size mattress, while the bunks are truly intended only for kids, at a 26-inch width (not even as wide as a standard twin mattress). So, these bunks will become storage areas.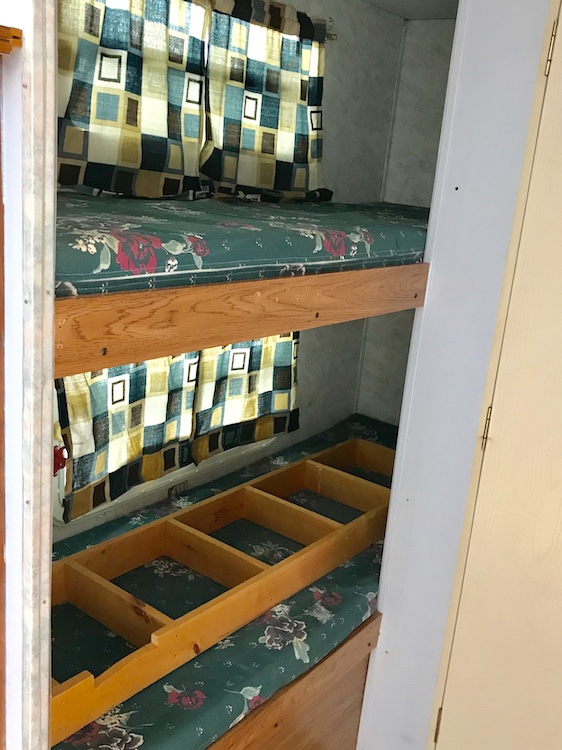 Bathroom
This rig has a shower/bath and toilet in the bathroom, and the vanity sink it just outside of it. I like this setup because sometimes during the say I need water and don't necessarily want to go in the bathroom.
The tub is large enough for an adult to actually take a bath in if desired. You can see this one comes with a handheld shower head, but I've already purchased a high-efficiency, low-flow Oxygenics shower head, which will make the most of the six gallons of hot water I can get at one time out of my onboard water heater.
That's about it, it's not a large trailer. I'm starting to have doubts about how I'll make it work for fulltime living, but I know there are lots of folks out there living successfully in far less space. Time will tell!