The second thing I did last weekend was finally get BumbleBeep Jeep ready to tow Wildheart. After making an appointment for the installation earlier in the week using a very simple and fast online reservation interface, I showed up at the Uhaul Store off 25th Street in Easton for the trailer hitch and electrical harness installation.
Trailer Hitch Installation
My appointment was originally for 12:30, but I got lost finding the place. I had read online in the Yelp reviews that it was hard to find, and I even knew where to look for it past the back parking lot of the shopping center near the intersection with Hwy. 22. But there are two entrances right there, and of course, I chose the wrong one.
That ended up not being the service road, but the on-ramp to Hwy. 22 West. Which, if you're familiar with it, you'll know doesn't have another exit until the Hwy. 33 off-ramp heading for Nazareth. Hardly the auspicious beginning I'd hoped for to start my on-the-road career, and I hope it's not an indicator of how things will go. But I called to let them know I'd be late, and eventually did find my way back.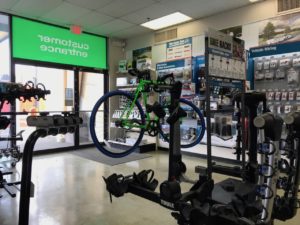 So as soon as I arrived, they were ready, knew who I was and why I was there. I went to sit down in their comfortable waiting area, and immediately my eye was drawn to a video playing above a rack full of towing accessories they sell.
Considering Other Accessories
One of those accessories was a transmission cooler, which I knew I should also have. I looked over at the service counter, and the mechanic was just getting ready to head back into his bay to work on Bumble. I asked him if he could add a tranny cooler to the installation while he was at it. He looked around, lowered his voice, and said, "I could, but honestly: With a Jeep, you should really get one of the factory-installed models or an aftermarket one designed specifically for your type of vehicle. Ours just won't do the job."
I was really impressed with his honesty and decency. He'd heard me talking with the gal writing up the ticket about the fact that I would be living full time in my RV, and felt that I wouldn't be well-served using their product that was made mostly for weekenders using larger tow vehicles. Yes, he lost his company about $250-300 this time, but he impressed me enough that I will definitely go back to them when I need anything else for my rig or tow vehicle, and I'm sharing the word with you all. I think that was a good trade for them, and a fantastic bit of all-too-rare customer service, which I really appreciate.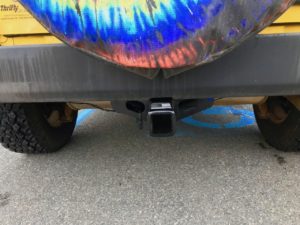 So the mechanic went back to do his thing, and I got caught up on Facebook on my laptop. Soon, I realized I was really hungry, and walked back toward the shopping center and got myself some lunch at the Long John Silver's restaurant. The food was good, but the bathroom was pretty disgusting. If I were secret-shopping that place, they'd have gotten abysmal ratings for cleanliness and just looking really worn and run-down. Next time I need lunch near there, I'll opt instead for the Dickey's BBQ place.
Ready To Go
By the time I got back, my Jeep was parked out front with a beautiful new trailer hitch in place. I went inside, finished up the transaction, and they handed me the hitchball slide that goes into the hitch receiver. I walked out finally feeling like a real RVer. Now the last step is getting my rig inspected, which I may schedule for the upcoming weekend if they can fit me in. Which means I'll finally have to actually hitch it up and haul it…the moment of truth! My hands are getting sweaty just thinking about it.