When I started this blog, I told you I would share it all with you, and today I have something to share that isn't about renovating my trailer.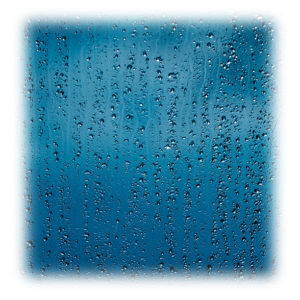 I've been really frustrated the past three weeks, since the endlessly dreary, disgustingly damp weather has made it pretty useless to try to get any painting or wallpapering done on Wildheart—that would just be inviting mold or a complete disaster with paperhanging. I'm getting really behind now, and it's stressing me out.
So I've been trying to get little snippets of stuff done here and there as I'm able to in the evenings after work, or during the rare weekend hours when the sun has been out. On the bright side, I have seen no more evidence of the leak on the kitchen backsplash since I replaced the vent, but other progress has been excruciatingly slow.
I'll show some of those efforts in a different post, but today I want to buck up my own spirits by sharing the incredible support I have received from family and friends for my upcoming life change.
"You must be kidding."
I really thought, when I told people about what I was planning on doing, most of them would say something like, "What? Are you nuts?" But in fact, almost to a person, they have either simply been excited for me, or—and honestly, this has happened so often, it really surprises me—they say something to the effect of, "Oh, you are so lucky! I have always wanted to do that! I wish I were going with you!"
Seriously, this has come from many people, even from those I thought were happily settled into their lives. I'm just amazed at how many have said, "Oh, I'll definitely be following your blog, so I can have adventures vicariously through you." Well, I'm glad I can be people's wanderlust surrogate or whatever. I'm just glad they're happy for me and not trying to talk me out of it.
And then there are the ones who have gone the extra mile.
It's good to have friends.
Like my friends Dan and Jeanmarie, whom I first met on a getaway to Isla Mujeres, Mexico in 2005. My sister and I had gone there to have some sister time, grieving the recent loss of our mom. It was a balm, that beautiful sunshine and our wonderful hosts, Ashley and Curtis, at Villa Las Brisas (now Villa La Bella). But the true bright spot in that vacation was meeting the Cozzis, a happy and personable couple whom we got to know as we all laid around the pool day after day, sun tanning and talking and drinking Curtis' killer piña coladas and, yes…laughing.
In fact, it was the fact that they made us laugh—COULD make us laugh during that horrible time—that made me instantly like Dan and Jeanmarie. Since she was originally from Philly and they were both critter lovers like me, we had a lot to talk about and I came to love them immediately. In the intervening years, we became great friends, and whenever they've been in the area, they've gone out of their way to get together with me.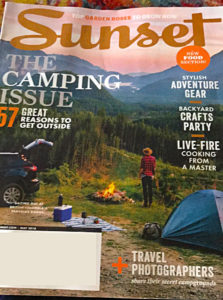 So now, their driveway is on my list of "surfing" sites I'll visit once I'm on the road down near N'awlins. They came to see me on a recent visit, and I told them about my upcoming sojourn. They were both excited for me, and last month, this magazine showed up in my mail with a little note from Jeanmarie, saying she hoped it helps me on my trip.
I was so happy to see it, and enjoyed looking at it. But the real joy came just from knowing that they're thinking of me and supporting me in this crazy midlife thing I'm doing. Thanks, you guys.
Going the extra mile, and then some.
And then there's Shari and Dave Vandergast and their boys, whom I met through community friends and really got to know a few years ago when Shari was working the "Stuff The Bus" fundraiser for our local high school band, and I stopped to make a donation. I've watched their sons move from student to young manhood, both active in our community like their parents. I've enjoyed their company and played with their little dogs and commiserated with them over troubling election results.
But I didn't realize how good of friends I had until a month ago, when Shari took me out to lunch as "an early bon voyage," she said. She was all excited to talk about where I would go and what I would be doing. We talked about everything as we enjoyed our delicious lunch at the Riegelsville Inn, and I couldn't help reflecting a little sadly on the fact that I would be away from this community full of friends for six months at a time.
Then she handed me a bag, and said it was part of my going away present. (Which is awesome and I so deeply appreciate it, but no one needs to do stuff like that. Really.) It was this beautiful, brightly colored (oh, how well she knows me!) Jansport backpack. I have wanted one of those since high school. It was filled with lip balm (again, she knows me!), a polycarbonate water bottle for my daily walks in the desert, a little first aid kit, a sewing kit, writing cards and postage stamps and a journal and some art supplies.
I mean…WOW! What a truly thoughtful gift! And every time I use these things, I will be reminded that although I am away, I have friends who love me back home. What solace that will be during the inevitable lonely times on the road!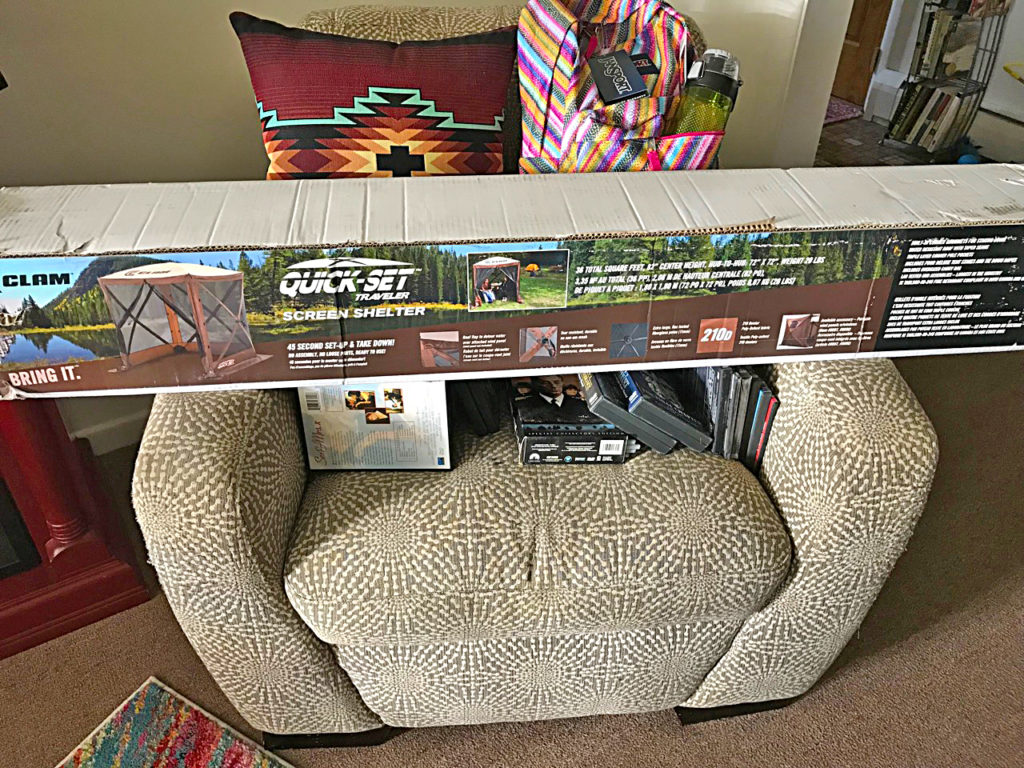 And, just for good measure: A week later, a Clam pop-up shelter showed up at my front door, also from the Vandergasts. I had told Shari that's what I wanted to get, to serve as my outdoor living room…and there it was. Seriously, I could not feel more loved and cared about. Thank you all, from the bottom of my heart.
And every week, as friends start to realize that I really am going, a few more reach out here and there, wanting to get together. I am not going to pretend I don't love this, and it's not about the stuff.
My dear friend Tom Macfarlan has been helping me make sure I have the right type of trailer hitch, and will be teaching me how to tow my rig in the next few weeks. And he invited me to camp with his family the first weekend of June, so I can learn the ropes of how to hook up to water, electricity and sewer at a campground, and learn how all my house systems work. Some folks wouldn't want to be bothered when they're just trying to relax (and this guy is one of the hardest-working folks I have ever met, and deserves his downtime), but this is the kind of friends I have. Thanks, Tom.
And there are countless others who show me such kindness every day, from near and far, in countless different ways.
It reminds me of a sappy Hallmark movie that I love, called The Magic of Ordinary Days. It stars Keri Russell and Skeet Ulrich and is set during WWII, my favorite historic era. Keri's character comes from a strict, emotionally uptight family, and is unused to the warmth and affection so clear in Skeet's character's family and friends. She finds it difficult to believe all the kindness shown to her, when she comes to town as a complete and unexpected stranger but is nevertheless embraced by all.
When she asks him why they all are so kind without conditions, he replies, "Because they love us and want us to be happy."
So there it is. Sometimes life really is just that simple. And I am so grateful.
So even though I've found my lack of trailer renovation progress maddeningly slow, I am focusing instead on how lucky I am to have such a wonderful chosen family of friends, who just love me and want me to be happy. It's the kind of sunshine no clouds can hide. It reminds me that I will always have a true home to come back to.
That itself is the best gift of all.