This Labor Day weekend—August 31 through September 3—is my very first camping in my newly remodeled travel trailer. In fact, it is my first-ever stay in an RV in my whole life.
It's a practice run for what will soon be my full time RV life. I am a week away from moving out of my 2,200-square-foot apartment into my 119-square-foot, 1996 Thor Prism M-20PG bumper-pull trailer. It's technically 20 feet long, but three feet of that is the hitch tongue. So the actual living space box is 17 feet long by 7 feet wide.
Yep, it's going to be a serious adjustment. But I find myself in a set of circumstances that dictate it as the best of not too many options I have right now.
On the positive side, I have for years wanted to see more of America, but I never really had a plan for how to go about that. And I suddenly found myself at 56 years old, asking myself, "Well, how long you gonna wait to get started with that, Mar?" I decided it was time to do it while I was still young and healthy enough to enjoy it.
On the not-so-positive side, I ended a 15-year relationship a few years ago, in which I co-owned a beautiful, 150-year-old stone farmhouse. I got a small financial settlement from that parting, which I immediately used to pay down about half of the credit card debt I had accrued since losing my entire life savings and most of my marketing clients in the Great Recession of 2008.
Unfortunately, the segment of the marketplace I work in did not experience the major bounce-back that many did as the economy recovered. I had anticipated making far more money than I had been, and I did make more each year; but it was not enough to both pay off the rest of my debt and start putting some away for a rainy day. In fact, in the expensive county where I live, it wasn't even enough to keep me from going farther into debt. So, I am in a fairly precarious position financially.
The Genesis of an Unlikely Idea
Meanwhile, I had begun searching for a way to be able to afford to attend more distant group hunts in the metal detecting hobby about which I am passionate. I could generally afford the entry fees in these events, but by the time I added up restaurant meals, travel and hotel rooms, the costs could push past $500 for each one. That was just beyond my means, and I was tired of missing these relatively rare opportunities to meet new detectorists and hunt with them.
As I considered alternatives, it occurred to me that if I got an RV, I could not only avoid expensive hotel rooms, I could also do my own cooking and save on food. Not to mention, I could eat when and where I wanted to, and even have a place to use the restroom, even if porta-potties weren't provided at the events.
The Idea Evolves
I learned that my Jeep Wrangler Unlimited has a towing capacity of 3500 lbs., and through research I discovered that pop-up trailers were generally safely below that. So I knew I could pull a pop-up and started looking for one. Needing to be careful with my investment, I did a lot of researching. As happens online, other trailer-related items started popping up in my feeds, especially YouTube. I suddenly found myself watching videos of a couple who had embarked on full-time living in their pop-up trailer.
My first thought was, "Are they insane?" because they seemed to primarily enjoy camping in state and national park campgrounds, many of which harbor large predators such as bears and mountain lions. I don't know about you, but even if I'd be on the road part-time, I would want something solid and substantial between me and the local wildlife while I'm sleeping.
That particular line of thought led me to start seriously considering the possibility of fulltime RV life, though decidedly NOT in a pop-up. I had to admit that the idea of actually living in an RV, rather than just vacationing in it, captured my imagination. Soon, it completely took over nearly every waking hour that I wasn't working or otherwise engaged.
The more I thought about it, the more sense it made for me. I could get rid of nearly $1,000/month in rent and even more in utilities. My work was portable. As long as I had reliable Internet access, I could write and do my marketing tasks for clients. And maybe I could even do my own blog, documenting my experiences with the idea that maybe others who found themselves in difficult circumstances could find some options for themselves. (You're reading that!)
If I couldn't afford to live where I wanted to, I could at least afford to travel around to live in not-sucky places. Definitely more appealing than moving away from my community of 20 years to someplace I knew no one and that would definitely have to be cheap and probably depressing.
Viable Option
So…very long story short: Because I am a writer, and writers are the ultimate researchers, I spent the rest of 2017 researching like a madwoman. In November, I used a plane ticket I'd been gifted the previous Christmas to fly to Isla Mujeres, my favorite vacation destination, for a week in the sun and surf.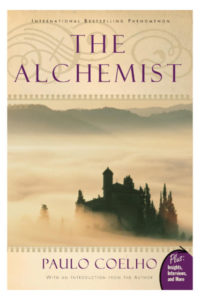 During the day, I metal detected the beautiful beaches. In the evenings, I sat in the outside "living room" of the beautiful B&B I stay in on the island, and used their free wifi to stream YouTube videos on full time RV living. And at night, I read a borrowed copy of Paulo Coelho's The Alchemist, which was working on my brain because it is the ultimate personal quest story.
My goals for the week were to finally go metal detecting in the ocean—which I did—and to decide one way or the other about whether or not I was going to give full time RV life a try. By the time our plane was "wheels up" from the Cancun airport, I had decided to take the plunge.
That Christmas, I sat my sister's family down to explain to them my plans. Rather than deride me for being nuts or accusing me of a midlife crisis, they were awesomely supportive. I was especially surprised at the excitement my plans seemed to inspire in my teenage nieces and nephews, who are generally pretty low-key about almost everything.
That did it: I had the support of the people I love the most, and technology had advanced enough to allow me to work relatively easily from the road. Now I had only to take concrete steps to make fulltime RV life a reality for myself.
Deflowering the Camping Virgin
Labor Day Weekend – And so, here I am in New Jersey, camped in a beautiful, large, hilly, green campground across the river from home base. It's called Mountainview, so I should have had more of a clue about the fact that one of the ways in is up and down a very, VERY steep incline. This is NOT what you want to encounter on your very first outing pulling a travel trailer with a tow vehicle that's really not as robust as it should be. But it's what I have and I work with it.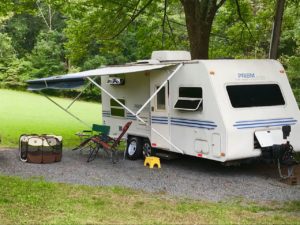 I got to the campground well after dark…as in around 10:30 PM. Another thing you just do not want to do. But I had underestimated how long it would take me to get my rig packed and secured and—most of all—hitched to my Jeep. I am embarrassed to admit it took me like two hours to attach the weight distribution bars and the anti-sway arm to the tow hitch and my Jeep. All while the sun was rapidly going down, and making me very nervous.
Fortunately, the owner of the campground was very kind and understanding when I missed the turnoff and drove past it and he had to come rescue me because I had never backed the trailer up before. To his credit, he didn't just tell me to get out and do it for me. He coached me on how to do it right. In the dark. On a rutted gravel road. But I finally managed to get turned around, and followed him back to camp in his golf cart.
He guided me to a spot, mercifully took care of hooking me up to water and electric, and said we could unhitch and take care of the black hose hookup in the morning. Needless to say, by then I was absolutely exhausted, and hurried to get all the lawn chairs and my loose spare tire out of the rig and to get Idgie in so she could get familiar with the trailer and find her litter box in the bottom of the shower in the bathroom. (The hood holds any odor in so well, since she's blind, I worry she may have difficulty locating it!)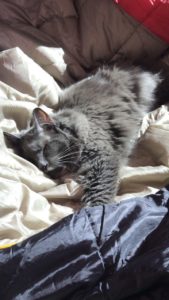 It was a long, nerve-wracking day, but we made it safely to our destination and immediately experienced the kindness of strangers I had repeatedly been told I would find among fellow RVers. And now, this morning, I am happily typing away on my computer to get this post up, so I can share it with you. The first small photo at the top of this post is our campsite, and you can see how lovely the late-summer weather is.
Idgie seems to be adjusting well, if a bit tentatively. And why not? This is a huge life change for both of us! I wonder what it will be like next weekend, when we start fulltiming for real?
Full disclosure: I am an Amazon Associate, so part of your purchase through some of the links or portals on this website will help support this site, at no extra charge to you. Thanks for helping me to help you and others by supporting my ability to provide valuable information on how to live more joyfully, efficiently and safely on the road.