Part 1 covered the period from January 10, 2018 to the end of October, when I would finally get on the road for real. This post begins the first leg of the journey to the Southwest for the winter, from Halloween weekend in Gettysburg, Pennsylvania, through the end of the year in Quartzsite, Arizona.
---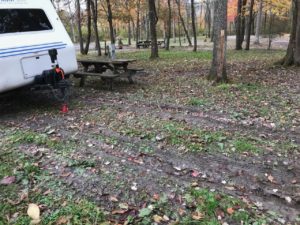 Oct. 26, 2018 – We leave our home base in Upper Black Eddy, Pennsylvania, for Gettysburg for my author appearance at the Militaria Show there. We camp at Granite Hill Campground. If I'd been more prepared and not so scattered, I'd have remembered that I have a Thousand Trails membership and not had to pay because they have a campground in Gettysburg. It was rainy and muddy as heck, and I had to have my rig towed out by a huge farm tractor before I could hitch up again to leave.
Oct. 29, 2018 – Head out for Las Vegas, NM, to stand up in a friend's wedding the day after Thanksgiving. Getting out of the Allegheny Mountains is a nightmare. Steep grades uphill strain the Jeep's inadequate engine and transmission, while the downhill grades test the new brakes. Then I accidentally enter a Dollar General parking lot, thinking I'm able to reach the gas station next door. It's a closed lot, with no second exit — every newbie towable RVer's nightmare! This becomes my first-ever backing in exercise, under the duress of trying to maneuver between vehicles into a parking slot, while an impatient shopper is behind me, waiting to get into the store. Incredibly stressful.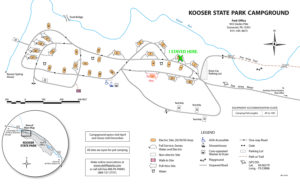 After getting gas, I decide to take my chances on the Interstate, even though I've been told big rigs will blow me off the road, because I can't take any more of the stress of trying to climb steep grades in the mountains. As it turns out, I don't even FEEL the big rigs at all, and enjoy mostly flat grades the rest of the way out of the state. I overnight in Kooser State Park, in Somerset, PA. Though it's drizzly and gray, this park's facilities are freshly updated so I can take a nice, long, hot shower in a great bathroom, and the rangers are friendly and helpful. The relief after the drive in is immense and boosts my confidence, and walking around the peaceful park under trees full of autumn color relaxes me. I begin to think maybe this isn't such a mistake, after all.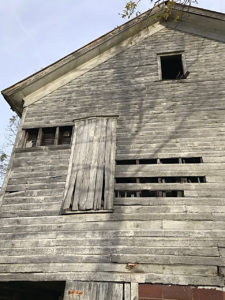 Oct. 31-Nov. 5, 2018 – We stay with my friends Jen and Russ in Atwater, Ohio. My second major backing-in experience, and it's nerve-wracking, but Jen is a champ at guiding me in and all is well. I spend some days working, then Jen and I go on a metal detecting adventure to a nearby permission of hers. It's a beautiful, sunny fall day, the perfect temperature and we manage to get in several hours hunting around an old barn before rain moves in. We both enjoy it immensely. It's nice to share meals with friends, since I usually eat alone and it's really the only time I ever feel lonely. I end up staying a week longer than expected, when I develop a really bad cold. Bless them for taking care of and putting up with me clogging up their driveway. It's my first of what will be many experiences of huge kindness from friends and strangers on the road.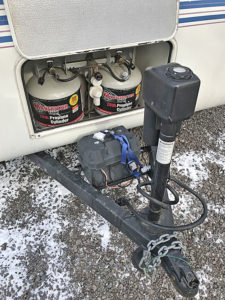 Nov. 5, 2018 – Finally getting back on the road, I discover my trailer's tongue jack motor is bad. Using the rolling floor jack my friend Tom insisted I get, I manage to get my trailer up onto the Jeep's hitch. Another nerve-wracking experience because it's so new and I have no point of reference and must just figure it out. Then I end up sitting around all day in the waiting room at an RV repair center in Columbus, Ohio, while they replace the motor-driven jack with a hand-crank model. I will miss the ease, but don't want to worry about getting stuck like that again. With a hand crank, there's no motor to fail. Plus, it's about $80 cheaper, and I need to save as much money as possible.
They don't get the job completed until just before they close at 5:00 pm, but at least they get me in. They allow me to bring Idgie inside with me, as long as she's in her carrier. She gets LOTS of attention from others in the waiting room! The front desk helps me order in a delicious hoagie lunch, and once I resign myself to the fact that I'm just going to lose a whole day, I break out my laptop and get some work done anyway. It's my first real experience applying the concept of "rolling with the punches" that I've been told is the hallmark of all successful RVing.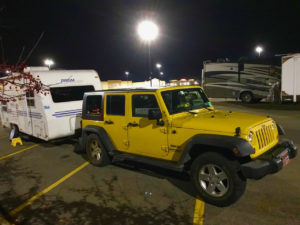 With no other alternatives and no time to plan, I inadvertently make my first WalMart parking lot overnight in Ashland, Ohio. I know enough to park at the outside of the lot among two other RVs, and feel perfectly safe. I also learn that big rig trucks run their engines all night. Before leaving in the morning, I go in the store to buy a couple 5-Hour Energy Shots. They get me through the next leg of the drive without falling asleep at the wheel.
Nov. 6-19, 2018 – Idgie and I stay in variety of campgrounds and Boondockers Welcome host sites from Indiana to Prescott Valley, AZ. We never stay more than one night in any spot, and though we make good time, it is an exhausting trip. I am learning for the first time that I made a good decision when I planned each day's journey to fit inside a 220-mile or 4-hour limit, though a few times we exceed that by a bit. In this photo of our stay at Archway RV Park in Illinois, you can see the cargo rack leaning against the side of the rig. I had just gotten it and was in the process of assembling it. When I got to Oklahoma and tried it out, I realized it added another three feet to the back of the rig, and I just didn't feel comfortable driving like that, so I left it with my friend, Peggy. Some stuff you buy thinking you'll really use it, but you can't really tell till you try.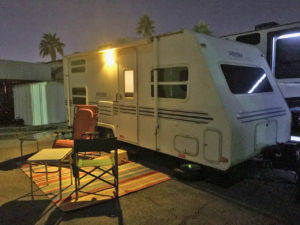 Nov. 20-23, 2018 – We finish the first leg of the trip at Las Vegas RV Resort, a very nice park off the Strip. I join my friends Suzan and Ken for Thanksgiving on the Strip, then their wedding at the Luxor, followed by an evening enjoying the lights and great food of Sin City. Fun but tiring! The next night, they treat me to the use of their luxurious whirlpool tub while they go out for a night on the town.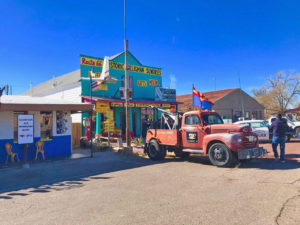 Nov. 24-Dec. 8, 2018 – We all head back to Cottonwood, where Suzan and Ken live. They make better time than I do, since they're in a car and I'm hauling a rig. I stay in Seligman, Arizona overnight, where I enjoy the funky little town before leaving for Cottonwood and my first stay at Verde Valley Thousand Trails RV Resort, where I will stay several times.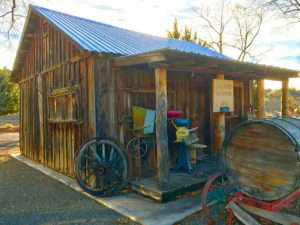 Dec. 9-11, 2018 – We stay at Orchard Ranch RV Resort in Prescott Valley, where I have the solar power system elements I've been carrying since before I left Pennsylvania installed, ahead of anticipated boondocking for three January events I plan to attend. There's a cool little historic building on the property, and I'm told by my solar installer, who's also a rockhound and gold prospector, that a creek running under the park has one of the richest gold veins in the state. Too bad I don't get time to pan it—too many work deadlines!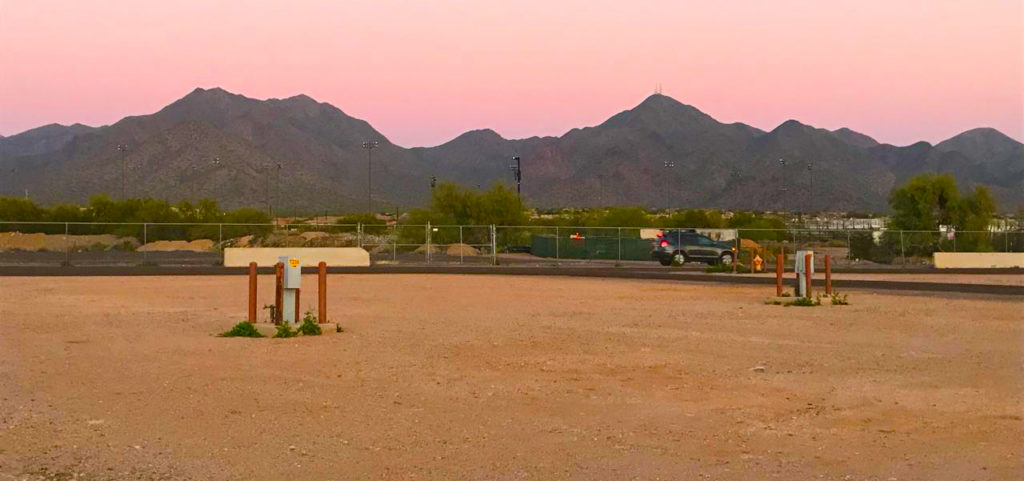 Dec. 12-13, 2018 – I travel to Westworld campground at the fairgrounds in Scottsdale for a client meeting in town. It's essentially a large parking lot, but it has hookups and a surprisingly good view. One of the very heavy tow bars falls on my left middle finger and smashes it. I will eventually lose the nail, three months later.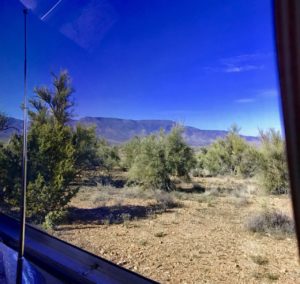 Dec. 14-15, 2018 – We head back to Cottonwood, where we boondock for the first time, just outside the Verde Valley RV park at Sheep's Crossing BLM land, which will be closed at year's end because it's being abused by stupid, thoughtless campers. I learn how my solar power system works and call the installer back to get it adjusted when I notice he has unhooked the part that charges my batteries when we're driving. My refrigerator also goes on the fritz, and I can't figure out if it has something to do with the solar power hookup or not. It will not work properly off AC power for the rest of the trip.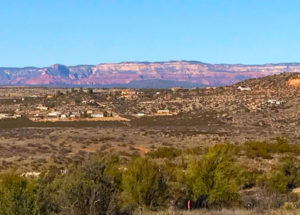 Dec. 16-22, 2018 – Since I've completed my mandatory week out of the Thousand Trails system, we can now go back to Verde Valley for a few days. Inevitably, the resident feral cats find my rig and hang around.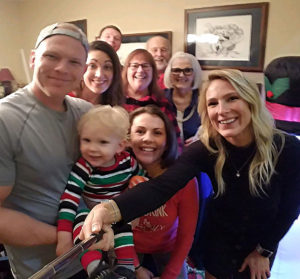 Dec. 23-29, 2018 – We travel to Phoenix to visit with my Aunt Penny—whom I've never met in person, just on Facebook—for the Christmas holiday. We hit it off immediately, and she and her family make me feel so welcome! Idgie and I dry camp in her condo association's overflow parking lot. I admire an R-pod trailer belonging to another resident that's also in the lot. I end up talking to its owner when he comes by with his dog, and he likes my trailer, too. We will end up having several discussions about RVs the other times I stay there, one of which ends up being a full-blown tutorial on solar power.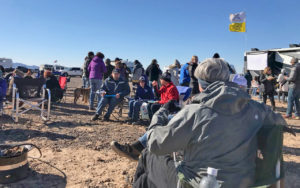 Dec. 30, 2018 – Jan. 2, 2019 – We then travel to a BLM dispersed camping site off Plomosa Road in Quartzsite, AZ, for the Xscapers New Year's Eve Bash. This is my first significant length of time boondocking on solar power alone. It ends up being great, and I never have to use my generator, even though I work most of every day. This works because I'm socializing at night and not working after the sun goes down, so the computers are turned off. I meet a lot of neat people and realize I've found my tribe. The NYE party itself is fun, but my favorite part is the next morning's Hair of the Dog brunch. I've never shared a meal with several hundred people before, especially sitting on lawn chairs in the middle of the desert, with coats on! My refrigerator is only working intermittently now, and I start researching on the Web to try to learn what might be wrong. I really want to get it fixed before the rest of the month, when I will be boondocking full time for several weeks. I don't want to have to move all my refrigerated goods to a cooler and completely sacrifice my frozen items.