One of the things I hadn't really thought about before I got on the road full time was how much time I would have to spend planning driving routes. This was particularly challenging last year, during my first year as a fulltime nomad, because I had to learn how to do this along with the many other aspects of living this lifestyle.
Plus, not realizing how much it would eat into my productive work time, I was traveling a lot more then, at least every two weeks.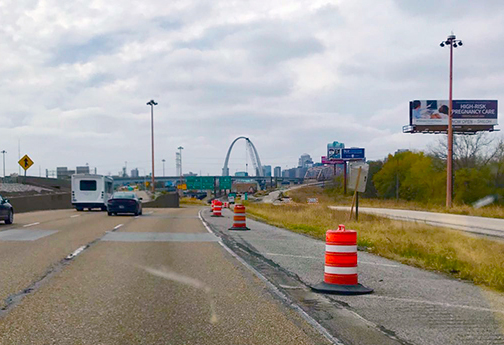 Nomadic Route Considerations
Some things most travelers don't have to think about that RVers must consider:
Steep grades – If even close to driving an under-powered tow vehicle with trailers or fifth wheels, or an older, less-than-robust Class C such as the Toyota Sunbird, steep grades can present challenges ranging from sweaty-palm nervous-making to downright dangerous. And that's just going uphill. Coming down a steep grade can test the best of braking systems.
Low clearance – bridge overheads/hanging vegetation/wires – Since many trailers and motor coaches are taller than even pickup trucks, we have to get used to thinking about being able to safely clear any over-the-road structures ahead.
Narrow roads and bridges – These can prevent us from being able to safely go where we wish, because many RVs are wider than standard, consumer-grade autos and trucks.
Weight-restricted bridges – Once a nomad starts living in anything larger than a teardrop trailer, total vehicle weight becomes an issue when driving rural backroads and tiny towns, whose bridges may not support commercial-weight combinations or motorcoaches.
Potential need to turn around ahead – If we DO get ourselves into a situation where we can't continue forward progress, we must always give ourselves the space to turn around and head back the other way. Unfortunately, the very scenarios that prevent forward movement almost always preclude a safe turnaround, and most RVers, no matter how skilled, will tell you that backing up their rigs isn't their favorite thing to have to do. Having to back up for long distances is just downright scary.
Certain construction areas – We also have to think about trying to avoid construction areas with very narrow lanes ("cattle chutes") that might squeeze our wider-than-usual RVs, effectively preventing forward motion.
So, despite the spirit of freedom to just take off and go where the wind blows us, it's important that we take some care to know what the road ahead of us holds. The importance of this knowledge is in direct proportion to the size of our rigs, because the taller/wider/heavier they are, the more places they won't be able to fit.
Mitigating Factors in Destination Choices
Realizing these issues, I quickly got on board with using online tools and mobile apps to help me plan my routes.
If I've been sitting a while in one place, I will usually do my route planning a week before I expect to get on the road. If I'm enroute on a longer trip, I will generally re-evaluate the next day's plan after I've gotten off the road for the night.
I remain flexible in this task for two main reasons: Either I've made better time than expected or not gotten as far as I'd hoped; or the weather is changing in an unexpected way. The former will cause me to have to choose a new overnight spot to maximize my progress or make up for lost time (if I'm on a hard schedule, which is rare)
I'm sharing here the current tools in my arsenal. There are many more, but I only feel qualified to talk about those I have used myself:
Route-Planning Apps and Web Tools
There are other trip planning websites and apps that I use primarily during active weather situations. I have listed and described those here. And I've also listed other driving apps here, which you may or may not consider route planning tools.
I hope you find some of these tools useful in planning your own trips. For those of you who are more seat-of-the-pants travelers (or "pantsers") than planners, I will offer this advice: I am more of a pantser in most facets of my life. I have always resisted planning of any kind, believing it took the spontaneity out of everything. And generally, I still subscribe to this outlook. But when it comes to RV travel, I have become an avowed planner. Between weather, inaccurate information, and road mishaps, I find that even the most well-planned trip is open to all kinds of spontaneity (whether you want it or not). That's more than enough for me.
One Last Tool…
Oh, and one last bit of advice? Regardless all this wonderful modern technology, I still travel with a detailed, up-to-date, print-format road atlas. Because generally, if you get into an area where you feel lost, that will be just the place you realize you have no cell reception to use GPS. So, as the old adage goes: Trust Allah, but tie your camel. Use technology as you can, but have an old-fashioned, reliable backup. I've yet to use mine, but it gives me great peace of mind to know I have it if I need to.
Happy road-tripping!
DISCLAIMER: I am not being paid to feature any specific products in my blog posts. I share product information for whose who may want to use them in your own RV or other home. I do offer Amazon portals that allow you to purchase them easily, as I did. As an Amazon Associate, I will make a very small commission if you buy through these portals, but the purchase won't cost you anything extra. I only feature products I have used myself or that I have personally seen successfully used by people I know. If you do choose to buy through these portals, please know how much I appreciate your support.